50 things you need to know about Apple Vision Pro
Size! Price! Apps! Battery! Release window! Creepy eyes! More!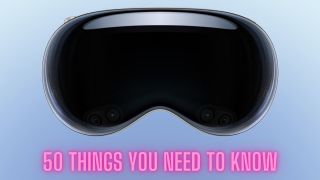 (Image credit: Future)
It's the most talked about piece of tech hardware in many years, and there's still a lot to learn about it. The Apple Vision Pro is the most ambitious device Apple has ever made: a head-mounted wearable computer that it believes will change the way we interact with technology forever.
Fueled by a huge amount of processing power, sensors, an all-new OS and a truly striking industrial design, it's still a long-way off from release. But that only makes us more eager to find out what this mixed-reality device is capable of.
From immersive 'Environments' to creepy digital 'Personas', from a hands-free control method to a potential date with Mickey Mouse, here are 50 facts, figures and features you need to know about Apple Vision Pro.
Hardware

Apple is calling it a Spatial Computer. It believes the Vision Pro will usher in a new era for computing, a 'spatial' one, where our workspaces aren't limited to desks and screens, but anywhere in the world around us — provided we're wearing something like the Apple Vision Pro. Through its lenses, applications are superimposed onto your surroundings, similar to augmented reality iPhone applications.


Apple Vision Pro is powered by not one, but two chips in a dual-chip array. Mac fans will be familiar with the superb computing performance offered by the M2 chip set to be employed by the Vision Pro, but it'll be paired with a brand new R1 chip, whose purpose is to handle all the data coming in from the sensors, cameras and mics.


It uses a pair of micro-OLED displays in its gasket, with 23 million pixels between them. That's the same as having a 4K TV for each of your eyes.


Though Apple Vision Pro may appear like one, it's not a VR headset. Not in the traditional sense at least, even though its hardware is conceptually similar. Apple is focussing on mixed-reality use cases, where applications and the real-world merge. Unlike most VR headsets for instance, Apple Vision Pro does not support 'room-scale' experiences — yes, applications can take up your entire field of view, but developer documentation shows that if you move more than 1.5 meters from the origin point of an experience, you're going to have the plug pulled on immersion. The Meta Quest line, by comparison, lets you move freely around an area you define up to 15m x 15m.


There are a ton of cameras built in. There are at least 10 external cameras (oriented with two main forward facing cameras, four pointing downward, 2 TrueDepth cameras for establishing depth, and two pointing sideways to capture the periphery of your view and room), as well as at least four IR cameras for working in the dark areas inside the headset, as well as some on the outside.


There are a lot of sensors in the Apple Vision Pro too. There is a LiDAR sensor for measuring distance and 3D mapping of spaces, and accelerometers and gyroscopes to track movement. And of course there will be sensors for tracking things like chip temperatures, as standard.


That front piece? That's a single piece of curved laminated glass that joins up with an aluminium alloy frame. It's designed to adhere to common curves of the human head to make it as comfortable as possible to wear.


Behind the front piece is a Light Seal. This helps the Vision Pro sit comfortably on your nose, and blocks out ambient light that could reduce the clarity of the displays. It'll be available in different sizes for maximum comfort.


A dedicated Top button lets you take spatial photos and videos, using the onboard 3D camera array.


The Apple Vision Pro will make use of an external battery pack. That's not as bad an idea as it sounds! You'll get two hours of use on average from the battery, and you can plug the headset into a wall socket for continuous use, too.


A Digital Crown, like what's present on the Apple Watch, is on the Apple Vision Pro, too. It serves two purposes — firstly to act as a home button to go back to the Vision Pro's main menu and apps screen, but also to dial in the level of immersion when in room scale 'Environments'. In other words, turn it to tune in or out more or less of your real world surroundings.


The head band has an adjustable fit. Not only is its fabric mesh stretchy and breathable, but a side Fit Dial lets you tighten it just right, no matter what your head shape may be.


Perhaps the most striking feature of the Vision Pro design is its external EyeSight display. This forms part of the frontispiece of the headset and uses internal cameras to capture video of your eyes and the area around them, then shows that on the external screen to anyone looking at you. EyeSight turns on when someone approaches you.


Apple Vision Pro does not have a controller. You're the controller! You'll be able to navigate apps and the interface just by using your hands to create gestures, and your voice to issue commands.


Apple Vision Pro offers eye-tracking to help make these hands-free controls work accurately. LEDs and infrared cameras beam tracked light patterns on your eyes to ascertain where your gaze is sitting. That helps Vision Pro recognize which elements of its interface you're looking to interact with.


Wear glasses? You'll be able to get prescription lens inserts for Apple Vision Pro. However, these will be sold separately, and made (initially at least) exclusively by ZEISS, a premium lens manufacturer. So don't expect them to be cheap. They'll magnetically attach to the lenses inside the headset.


It's not just about Spatial Computing, but Spatial Audio, too. Apple has popped speakers into the side strap of the Vision Pro, over but not in your ears. This helps you hear your real-world surroundings without losing out on too much audio. During set up, they'll map your ear geometry too to aid replicating a surround sound experience.

Software

The headset runs on the new visionOS operating system. From its icons to its fonts and control points, it builds on what users will be familiar with from macOS and iOS, but presents them in new ways that interact with the world around the user.


You have full freedom to move apps wherever you want in visionOS. They're not locked to a set size, or a set position in a space. Instead you can tailor them to suit your workflow, needs and surroundings — the apps will even react to the ambient lighting of the positions you place them in, casting natural shadows in the digital space.


Get used to pinching. Putting together your thumb and forefinger will be the primary way to make selections in visionOS, while flicks will let you scroll through content.


Worried about tired arms waved around all day? Don't be! You can control Apple Vision Pro even if your hands are in your lap. Its onboard sensors and camera arrays are sensitive enough to track your intentions even if your hands aren't waved right in front of the headset.


Can't use your hands, or just want to give them a rest altogether? Siri will be on board to open and close apps and media, while hovering your gaze over a mic icon in any app will activate a dictation mode.


There's already quite a few confirmed, familiar first-party apps that you can use on Apple Vision Pro. These include Apple TV, Apple Music, Photos, Messages, Mail, Safari, Freeform, Keynote, Mindfulness and Notes.


Lots of these apps can be viewed in those immersive 'Environments' mentioned earlier. A key one will be the Cinema Environment, which will blow Apple TV screenings up to as large as 100 feet wide.


Bespoke entertainment content is already being made for Apple Vision Pro. Spatial Video support for Apple TV means that the upcoming Godzilla TV show, currently titled Monarch: Legacy of the Monsters, is being filmed with Spatial Video support in mind.


Apple is looking to revive 3D video with Apple Vision Pro, too. It'll be pushing Apple Immersive Videos, which use 180-degree 3D 8K recordings, alongside Spatial Audio, to put you in the heart of an action scene.


This is Apple's first 3D camera too. You'll be able to record and playback your own spatial videos and photos — and those being filmed will know you're doing so as the headset's front screen changes to a recording mode.


One of the key apps for Apple Vision Pro will be FaceTime. You'll be able to make calls with the headset, and have your friends' faces hover in panes alongside anything else you're doing with Vision Pro at the same time.


But if you're wearing a headset, what will your friends see when you're on a FaceTime call? Your digital Persona, that's what. Like a detailed memoji, the Apple Vision Pro will scan your face and create a bespoke, quite-uncanny 3D representation of you that will be beamed to your friends. It's a bit like sending a video game character version of yourself to represent you on calls.


SharePlay will work in FaceTime too. If you want to work simultaneously on a SharePlay-supported app or project with Vision Pro on, you'll be able to do so.


It may have taken years to get Final Cut Pro for iPad, but you won't have to wait so long for the Spatial Computing version. Apple already has plans for Final Cut Pro for Apple Vision Pro, and it should be ready in time for launch, too.


Of course, it won't just be about first-party apps. A visionOS App Store will launch alongside the headset, offering third-party developers the opportunity to create apps and services for the device, too.


There's already a visionOS SDK available, and as a result, we've already got a sneak-peek at some of the potential third party apps heading to Vision Pro. Some are great, like a gaming museum, and some are silly fun, like a giant calculator.


Of the third-party developers announced for Apple Vision Pro so far, the biggest announcement was that Disney will be creating apps for Vision Pro. At the headset's launch, Disney showed off a sizzle reel that included transporting viewers to locations from Star Wars, having Mickey Mouse run around your living room, and streaming the Disney+ catalogue in the headset.


On top of that, iPhone and iPad apps will be compatible with Vision Pro. Though they'll likely be flat plane versions of existing apps, Apple is keen to make it easy for developers to get their existing apps working on the headset so that users can feel right at home straight away with the headset.


Among those supported iPhone and iPad apps will be Apple Arcade games. You'll be able to Pair a Bluetooth controller with Apple Vision Pro, and play those titles on a giant screen inside the headset.


Vision Pro will support Apple's Continuity features to allow you to work inside the headset, alongside your Mac. It'll let you add multiple virtual displays to a MacBook, turning a single screen device into a multi-display workstation.


And though Vision Pro is a handsfree, controllerless device, there's nothing stopping you from being able to pair a Bluetooth keyboard, mouse or trackpad with the headset. Handy for those aforementioned Continuity features with a Mac.


3D objects will be a big thing in visionOS, naturally, given the 3D nature of the interface. But developers can potentially go the extra mile by letting you take 3D objects out of an app and place them in the real-world around you, letting you scale them as desired.


Visual search will be part of visionOS. Working a bit like Visual Lookup, it'll be able to identify items or detect and read aloud text that your gaze centers on. It sounds like a great accessibility feature, as well as a great learning tool.

Price, release and other features

Apple wants to make Vision Pro as secure as any of its other devices. It'll offer an Optic ID security system that scans your iris for its unique features to authenticate access to your sensitive data. That Optic ID data is encrypted, and never leaves your headset.


Privacy is important. Though Apple Vision Pro has cameras constantly tracking your environment, that information is processed at a system level, meaning that third-party applications don't get to see inside your living room. Likewise, eye-tracking data, such as where your eye lingers on a Safari page, will not be shared — just any selection taps.


Want to take Vision Pro on the go? A dedicated Travel Mode will be available, which will ask you what sort of transportation you're using, and scale back some 'awareness features' in line with your activity. No one wants to accidentally gatecrash the cockpit of a plane, right?


How about sharing your Apple Vision Pro? A Guest Mode will also be included, and while its details are not yet clear, it's assumed that you'll be able to register several Optic ID security locks and get individual 'workspaces' for each user. But the details here still need to be confirmed.


Don't run! Apple Vision Pro has a speed limit. Early SDK users are seeing that when testing high-speed motion, a 'Moving at Unsafe Speed' warning message appears and temporarily hides virtual content.


Apple Vision Pro will make use of your iCloud account to make sure that everything you do on the headset is synced with your more traditional devices, like the iPhone and Mac.


It's expensive. Apple Vision Pro will cost $3,499 when it launches at some point in 2024.


Try before you buy. Apple intends to shuffle its Apple Store retail locations around to include testing and showcase areas for Apple Vision Pro. Much like with the launch of Apple Watch, Apple reportedly wants people to come get fitted for the device to ensure they get the right band fit, optical inserts and more. That might mean you can't get it at other retailers in that initial launch wave.


Can't afford $3,499? Then patience, grasshopper. Rumor has it Apple already has plans to launch a cheaper version of Apple Vision Pro by the end of 2025.


But if you're outside the US note that it's not getting a global release. Not initially, anyway. The US is the first market to get the Apple Vision Pro, with other territories to follow at an as-yet-undetermined time.

Get more iMore in your inbox!
Our news, reviews, opinions, and easy to follow guides can turn any iPhone owner into an Apple aficionado
Gerald Lynch is the Editor-in-Chief of iMore, keeping careful watch over the site's editorial output and commercial campaigns, ensuring iMore delivers the in-depth, accurate and timely Apple content its readership deservedly expects. You'll never see him without his iPad Pro, and he loves gaming sessions with his buddies via Apple Arcade on his iPhone 14 Pro, but don't expect him to play with you at home unless your Apple TV is hooked up to a 4K HDR screen and a 7.1 surround system.
Living in London in the UK, Gerald was previously Editor of Gizmodo UK, and Executive Editor of TechRadar, and has covered international trade shows including Apple's WWDC, MWC, CES and IFA. If it has an acronym and an app, he's probably been there, on the front lines reporting on the latest tech innovations. Gerald is also a contributing tech pundit for BBC Radio and has written for various other publications, including T3 magazine, GamesRadar, Space.com, Real Homes, MacFormat, music bible DIY, Tech Digest, TopTenReviews, Mirror.co.uk, Brandish, Kotaku, Shiny Shiny and Lifehacker. Gerald is also the author of 'Get Technology: Upgrade Your Future', published by Aurum Press, and also holds a Guinness world record on Tetris. For real.