Best iPad games of 2023: RPGs, shooters, puzzlers and more
The best iPad games are a sweet way to enjoy some downtime with your tablet.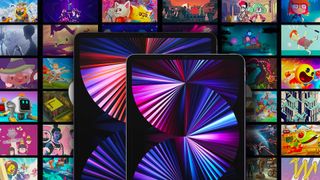 (Image credit: Apple)
The best iPad games truly showcase how the iPad is a very capable mobile gaming device, thanks to its great processing power and giant screen. Whether you're tapping away at the screen or choose to hook up a controller, it's a great platform for spending a few hours shooting, looting, or roleplaying to your heart's content, along with everything in between.
The iPad is well over a decade old at this point so the best iPad games on this list span many years of excellent releases on the App Store. There's a mature library of titles with veterans like Minecraft consistently popular, but also somewhat newer games like Genshin Impact and Fantasian proving popular too.
Take a look through our ever-evolving list of the best iPad games in 2023 to find your new favorite. Don't forget to check out the best Apple Arcade games list too, if you're keen to sign up for Apple's subscription gaming service. There's also a useful roundup of the best iPad apps for new owners too.
How we pick the best iPad games
Where to find games for iPad
The App Store is likely to be your first port of call for iPad games but it's far from the only service out there. Wherever you choose to get games from, it also makes sense to get a game controller for iPad for more intensive games with touch controls best for more casual fare.

Apple Arcade: Apple's subscription service on the App Store is just $4.99 a month or $49.99 a year, and is also bundled as part of Apple One. With it, you can access a library of hundreds of ad-free games like Jetpack Joyride 2, Shovel Knight Dig, and more.
Xbox Game Pass (xCloud) for iOS: Microsoft's Xbox Game Pass subscription starts at $1 a month and then goes up to $14.99 a month. It costs more than Apple Arcade, but gives you access to hundreds of more intensive games like Sea of Thieves, Forza Horizon 5, and much more.
Steam Mobile: Downloading the Steam Mobile app allows you to access Valve's game distribution service. You'll need to purchase each game individually, but there are tons of games available here.
Moonlight Game Streaming: This is basically an open-source Nvidia GameStream made to work for iPad, iPhone, and Apple TV. Download the app and you can stream games from your PC remotely to play them on your mobile Apple device.
Nvidia GeForce NOW: Unlike Nvidia's Moonlight app that we just mentioned, this is a paid service that gives you access to tons of iPad games like Fortnite, which is no longer available on the App Store.
Best RPG games for iPad
Divinity: Original Sin 2
Larian's Divinity: Original Sin 2 is a role-playing game in the truest sense. Unlike other RPGs that suggest you have a choice but tend to funnel you down the same few paths every time, this is an epic game that allows you to play almost exactly how you want. On the iPad, it feels particularly grand and distinctive.
Want to be a flesh-eating elf? Or an expert in talking to animals? Ever wanted to...sleep with the undead? If you can answer yes to any of those, you'll love Divinity: Original Sin 2. Its open-ended quest structures, huge narrative choices to make and an elemental combat system all reward experimental play and a head for strategy.
There's also co-operative four player drop-in drop-out play, and we have a sneaky feeling this isn't just the best RPG on iPad, but the best game overall.
Its hardware requirements mean you'll need 18GB of storage space and a relatively newer iPad from 2018 onwards, but that's increasingly less of an issue for most iPad users given the upgrade potential.
Genshin Impact
Continuing to be one of the biggest games around, Genshin Impact is a stunning open-world RPG. It has you play as an interstellar traveler who, alongside their twin, has been trapped on the planet of Teyvat. From there, you get a world full of gods and monsters. Players can build teams of four elementally aligned heroes to explore Teyvat, while defeating monsters, and uncovering the mysteries of the planet's history.
The sheer sense of scale here is the best part with a sprawling and expansive world to check out, and frequent updates from devs meaning there's always something new to do.
There's over 150 hours of gameplay with new content often appearing. It's also available on Android, PC, and PlayStation with support for cross-platform play expanding its multiplayer options. There are frequent events that provide even more gameplay to enjoy too.
Monster Hunter Stories
The Monster Hunter franchise typically has you taking down huge monsters, before using their resources to craft better gear then take down the next lumbering beast. Monster Hunter Stories is different from this and is more like a Pokémon game as you collect creatures.
The crux of the game has you raising creatures from eggs and levelling them up, before having them fight alongside you. The game uses a Rock, Paper, Scissors-like battle system to do this. Each monster has its own focused fighting style that is stronger than one of the other fighting styles, but weaker than another. You need to figure out what works best and in which situation.
Previously released on the Nintendo 3DS handheld system with a sequel making its way to the Nintendo Switch, this remains a fairly intensive game for the iPad and a great experience.
Night in the Woods
Night in the Woods will make you laugh and feel some strong emotions too. It's a standout adventure game that takes place in a world of animals similar to our own. You follow the tale of Mae, a black cat in her early 20s who returns home following dropping out of college. She soon learns that things can't be the same as they were when she was in high school.
A coming-of-age story, Night in the Woods reflects on the difficulties of being an early 20-something figuring out adulthood. It's also very funny and sarcastic with some remarkably memorable moments too.
Sound a little tame still? Don't worry. Its main story has people going missing and an evil group of people being responsible. It's all down to Mae and her friends to figure out what's going on.
Ticket to Earth
Ticket to Earth is an incredible game and is a must-download for gamers everywhere, and I can't recommend it highly enough!
The story provides surprising plot twists, memorable characters, and a very well-written narrative to keep you invested in the world of New Providence and the people who live there.
With an original battle system, it reinvigorates the strategy RPG genre. The movement system offers a deep and complex combat experience that never feels stale, thanks to there always being new abilities and powers to gain. Ticket to Earth can be tough if you're not careful, so it's important to examine the map carefully and choose your actions wisely. Otherwise, you'll be stuck repeating the same missions. It can be frustrating starting out but it's worth sticking around with.
The game also has a beautiful AR mode that lets you play all the story missions and a plethora of original ones in AR.
Dead Cells
Dead Cells is a roguelike action RPG that sees you take "runs" through different levels of a gloomy island. You'll need to collect items and upgrades along the way, but be careful, if you die, you start from the beginning.
Death is going to happen a lot, but you'll always learn something new each time so that the next run is more satisfying. As you progress, you gain permanent upgrades thanks to killing more enemies and getting further into the game. Progression is always there, even with so much death occurring.
Available for many systems, Dead Cells works well not he iPad as you can easily dip into it while on the move and from anywhere.
Fantasian
From the creator of Final Fantasy, Fantasian is ideal if you're keen for a new Final Fantasy fix and you've burned through the ports already on the App Store. Hand-crafted dioramas look fantastic, especially on high-end iPad screens.
The game offers great battle mechanics with players able to streamline combat through sending previously encountered enemies into a separate dimensional dungeon. It's as weird as it sounds but it works well. Extensive customization options cut back on the traditional JRPG grind too.
Everything from the visuals to the soundtrack all feel high-end and so much more than just a mobile game.
Best horror games for iPad
Five Nights at Freddy's
The original Five Nights at Freddy's offers some unrivalled jump scares. There's a simplistic beauty to it with players staying in a security room the whole time, yet able to use cameras to monitor sounds and recordings from other areas of a pizza party place. How scary can a pizza party place be? You'd be surprised with the animal animatronics entertaining kids by day and becoming autonomous killers at night.
You need to protect yourself from such robots but you only have a limited amount of power each night. Run out and you can't protect yourself. Checking the cameras and shutting the doors to your room require power, so you need to only do so when absolutely necessary to survive. What's more, each night gets more difficult.
Will you make it through all five nights and beat the game? Or will you get killed by moving animatronics that suddenly appear in your doorway? It's thrilling stuff and unsettling too.
Oxenfree
Oxenfree is a narrative driven horror game. You play a young woman who travels to a deserted military island with her teenage friends at night. While partying, they accidentally disturb a malevolent supernatural force and become trapped. The mission? To travel around the island and figure out just what is going on, all while getting everyone home safely.
One of the most compelling things here is that your choices have major consequences that make you think about your actions. You might make it to the end and not like how things played out. But you can always play again and see where other choices lead you.
Best multiplayer games for iPad
Call of Duty Mobile
Few gaming franchises have been as successful as Call of Duty with its high-octane multiplayer mode the highlight for many. The mobile version brings that action to the portable screen. You get multiplayer modes like 100-player battle royale, team deathmatch, domination, and kill-confirmed. Some maps are even familiar from previous games.
Whatever the mode, the goal is often the same -- land in a realistic-looking location and then work with your team to take out your opponents. There are plenty of different weapons and gear to take advantage of as you strategize to come out on top. The players with the most points by the end of a countdown win the match.
It's free-to-play and you do not have to pay anything in order to enjoy the game. However, certain skins and weapons can only be unlocked with real-world purchases which can get tempting.
Clash Royale
Clash Royale is a player-versus-player strategy game where you duke it out against an opponent to prove you're the better leader. Part of the fun is levelling up and unlocking rewards, while competing in special events. Other enjoyable elements include joining clans with friends and fighting opposing forces.
It's all simple yet addictive, just as you'd expect from the creators of Clash of Clans.
Clash Royale is free to download but does offer in-store purchases. You do not have to pay anything to enjoy the game, though.
Among Us
Depending on your pop culture reference point, Among Us is either the game version of The Thing or like party games such as Mafia or Werewolf. Up to 15 players can join a game and are tasked with fixing their spaceship. The catch is that there's at least one imposter on board who is out to kill everyone and sabotage the shuttle.
Players need to keep an eye out and vote on who they think the imposter(s) are. If enough votes are cast condemning one person, they are launched out of the airlock. If it was the imposter, the crew wins. But if it was an innocent person, the game continues and everyone quietly laments being tricked.
Rounds don't last long and the game is super simple to learn making this a great pick up party game for people of all ages. All you need is an iPad or phone of any make.
Rocket League
What's more exciting than soccer? Playing soccer using fancy cars, of course! Rocket League has been around for several years but its community remains strong and active. The game also still receives regular updates so there's always something new to do.
As you play, you gain rewards that mean you can customize your car. Victory is achieved by flying across the field, stealing the ball, and using the walls to ricochet the ball into the goal.
More competitive players can also compete in scoreboards to prove who the best players are.
Stumble Guys 2
If you're looking at this multiplayer obstacle course battle royale and thinking this look like a blatant rip-off of Fall Guys then you're right! But even so, it's very popular on the App Store and has proven to offer some really great improvements over the game it's imitating. It's not like you can get Fall Guys on the App Store still anyhow.
Players drop into a challenge that contains up to 32 players. From there, they attempt to make it through various obstacles and reach the goal at the end. You can even play dirty and knock your opponents over with dashes and slides. Even if you fail, the animations are so silly and the gameplay so fun that you'll want to play again. It's ideal for short bursts.
League of Legends: Wild Rift
League of Legends has been a widely popular MOBA on PC for many years, so it'[s great to see a specific mobile version available too. If you've played League of Legends on PC, you'll appreciate how complicated the controls can get. Fortunately, this version has been designed by Riot Games to do away with such issues.
You'll see many of the same champions (but not all) as you do on the PC version and there are some changes to make mobile play easier and more fair. The biggest change to note is there are no passive abilities. Some of the champions play differently than you may be used to. However, overall it's still a really enjoyable experience with great visuals of the attacks.
Best strategy & puzzle games for iPad
The Room: Old Sins
The Room: Old Sins is part of the fantastic Room series of games, which all have the same basic gameplay. It's effectively a giant puzzle box, with tons of challenging puzzles to discover and wrack your brain over to solve them.
The sudden disappearance of an ambitious engineer and his wife starts you off on a hunt for a precious artifact. The more puzzles you solve, the more intriguing the story gets, making it extremely satisfying every time you solve a puzzle. It's the kind of thing you chip away at, bit by bit, slowly making progress.
The Room: Old Sins is the newest game in the series, and you certainly don't need to play the first three to enjoy it, but you won't be disappointed if you check them all out.
Hidden Folks
Think of an intense black-and-white version of Where's Waldo and that's Hidden Folks. It's an amazingly crafted puzzle game that aims for simplicity while also being incredibly intricate to look at.
Finding everything on each level is quite the challenge and Hidden Folks will make you flex your brain power to figure out certain hints that accompany each findable person or object.
The hand-drawn art is as charming as it is impressive and you'll spend just as much time looking around each level enjoying the design as you will squinting your eyes trying to find Beekeeper Barry.
Thimbleweed Park
If you're a fan of the Monkey Island series then you owe it to yourself to play Thimbleweed Park. Crucially, it was created by Ron Gilbert and Gary Winnick who worked on the classic point-and-click adventures back in the day.
Someone is found murdered under a bridge and two FBI agents who look suspiciously like Scully and Mulder of X Files fame, come to investigate. During the course of the story, players take on the role of five different characters and unravel a mystery surrounding the town. You'll travel to an abandoned circus, check out a haunted hotel, discover a burned pillow factory, and much more.
You'll find yourself genuinely laughing at the dialogue, enjoying tongue-in-cheek comments that often break the fourth wall, and figuring out some fantastic puzzles. Even the ending is worth reaching with the game never missing a beat.
Monument Valley 2
If you'd like to challenge your brain without straining too much than the beautiful Monument Valley 2 is perfect for you. The levels are gorgeous and offer puzzles that work with optical illusions. You'll need to guide the protagonists, a mother and her child, through various levels to help them reach the goal.
There are dozens of levels to experience and the visual delight of each stage goes a long way into creating that calming feeling the game is known for.
Hearthstone
Hearthstone is a compelling strategy card game from Blizzard Entertainment -- makers of World of Warcraft. It incorporates characters, elements, and relics from the game, while also offering a great strategy experience for card enthusiasts.
There are regular updates with new seasons and card expansions to keep things interesting. You also have a choice of multiple modes including PvE rounds, PvP challenges, and even eight-person duels. It's all about carefully figuring out how to use your cards to gain the tactical edge.
Slay the Spire
I'm not really sure how I ever lived without Slay the Spire on my iPad. The game is incredibly fun, challenging, and full of little interesting decisions that make no two sessions of the game alike.
It's a roguelike deck builder that tasks you with reaching the top of the spire, but of course, there are plenty of enemies and weird other encounters you'll need to go through to get there.
Each run has you choose a character then start off with a deck of cards that you'll need to use well to ascend the spire. As you progress, you gain more cards to add to your deck, but you need to be careful about which cards you choose and how many you use.
Although it is a roguelike, which means you start at the bottom again when you die, you'll never get bored. With different relics to find that give you special abilities, new cards, four unique characters, and a ton of interesting events that can give you a boon or a bane, no two games ever feel the same.
Best sandbox games for iPad
Minecraft
Who doesn't know Minecraft by this stage? Part endless Lego kit, part so much more, it's been around since 2011 and has no sign of slowing down.
Endless exploring, mining, and crafting await you in the 3D pixelated world, which offers almost limitless possibilities for what you can create. It's incredibly fun to play for countless hours with you able to turn it into the game you want it to be, whether that involves structure or not. Just remember to take a break once in a while.
Don't Starve: Pocket Edition
In the adorably dark world of Don't Starve: Pocket Edition, you find yourself in the middle of a strange land with nothing. You will have to gather supplies and craft items to survive, and of course don't starve. There are creatures to battle and different types of lands to explore. Set up camp and begin your adventure.
Adapted from the PC, the iPad version has been designed specifically with touchscreens in mind. Work at it and you can use a mixture of magic, science, and combat skills to build a base of your dream and survive. In the Pocket Edition you play as Wilson and if you want to change your map, you can do so at any time!
Roblox
Much like Minecraft, Roblox is a sandbox game that has not only been around for a long time now, but also continues to thrive. It's similarly endless because it has players creating their own games before sharing them with others online.
Basically, it's only your imagination that can restrict you here and when it does -- you can use someone else's to discover some other wondrous creation you didn't think possible.
Sid Meier's Civilization VI
More expensive than some other games here, Sid Meier's Civilization VI is a vast game that you'd normally only see on PC. The turn-based strategy game has you building an empire from any era of history, deciding whether you should go the peaceful route or something far more aggressive.
It's the kind of game that you can lose hundreds of hours to so it's good to see it offer cross-platform cloud save support so you never need to step away from it for long. Extensive DLC means for some players, you'll never need to buy another game.
It's compelling seeing how things can play out between other nations or whether your aggressive or more passive approach pays off better.
Best simulation games for iPad
Stardew Valley
These days, when someone says life simulator, your mind probably automatically goes to Animal Crossing: New Horizons. However, on a non-Nintendo platform, your next best alternative is Stardew Valley and some players believe it's even better.
You start out inheriting a run-down farm and it's your job to slowly rebuild it, get rid of weeds, and make it a delightful place to live. You can raise chickens, grow crops, and tend to plenty of other things on your property too. It's also possible to visit the local town and get to know the villagers, potentially even falling in love and starting your own family.
FTL: Faster Than Light
FTL is a spaceship simulation game only available to play on the iPad or PC. It's well-suited to touch controls and a tablet screen with players leading their space crew through different scenarios. You can upgrade your ship too, while negotiating a randomly generated map.
Along the way, you'll certainly need weapons but once you do die, you simply start all over again. The nice thing here is that as you play over and over, you gain new scenarios, make different decisions, and see new parts of the galaxy. Victory is hard-fought but it's always satisfying to see how far you can get.
Best platform games for iPad
Alto's Odyssey
Alto's Odyssey trades in the bright, snowy, and colorful palette of the first game for a much warmer, darker environment that's just as appealing as the original. The desert — while stunningly gorgeous — feels harsher and less forgiving than the slopes Alto's used to, and the new landscape provides a plethora of new challenges for players to discover.
The core mechanics are the same, though. A terrain-heavy endless runner, you attempt a series of snowboard based tricks across a beautiful and ever-changing landscape. Collecting coins is a key part so you can purchase power-ups, as well as dodging obstacles and completing goals, leading to levelling up.
As you may have guessed, it all flows exceptionally smoothly and is just as addictive as the first incarnation, making it a solid contender as one of the best iPad games. Alto's Odyssey continues to build on that well-defined core and throws awesome new challenges at players in almost every run.
Leo's Fortune
Leo's Fortune is a cute platforming game for the iPad that features finely crafted stages with beautiful graphics and clever puzzles. The story is whimsical, but the little-mustachioed fluff ball takes it in stride.
Someone has stolen Leo's gold and it's up to him to go on a platforming adventure to get his wealth back. What stands out to me about Leo's Fortune is the gameplay physics. Making Leo float or sink to reach the precious gold coins is a nice break from the old side-to-side movement in a lot of platformers.
Get more iMore in your inbox!
Our news, reviews, opinions, and easy to follow guides can turn any iPhone owner into an Apple aficionado
Gerald Lynch is the Editor-in-Chief of iMore, keeping careful watch over the site's editorial output and commercial campaigns, ensuring iMore delivers the in-depth, accurate and timely Apple content its readership deservedly expects. You'll never see him without his iPad Pro, and he loves gaming sessions with his buddies via Apple Arcade on his iPhone 14 Pro, but don't expect him to play with you at home unless your Apple TV is hooked up to a 4K HDR screen and a 7.1 surround system.
Living in London in the UK, Gerald was previously Editor of Gizmodo UK, and Executive Editor of TechRadar, and has covered international trade shows including Apple's WWDC, MWC, CES and IFA. If it has an acronym and an app, he's probably been there, on the front lines reporting on the latest tech innovations. Gerald is also a contributing tech pundit for BBC Radio and has written for various other publications, including T3 magazine, GamesRadar, Space.com, Real Homes, MacFormat, music bible DIY, Tech Digest, TopTenReviews, Mirror.co.uk, Brandish, Kotaku, Shiny Shiny and Lifehacker. Gerald is also the author of 'Get Technology: Upgrade Your Future', published by Aurum Press, and also holds a Guinness world record on Tetris. For real.