Five things I love about Apple Watch and watchOS
It's the best smartwatch for good reason.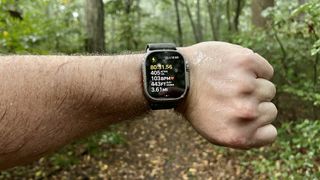 (Image credit: Future)
The Apple Watch is one of the most intriguing and, dare I say, magical pieces of tech to emerge from Apple since the original iPhone back in 2007.
At its best, Apple's rectangular timepiece is the Alfred to your iPhone's Batman, the medical alert bracelet you never knew you needed, and at least 10 percent of sheer Dick Tracey coolness.
Its innovation has become a little stale, with the same design and only minor updates in the last few iterations, and it could still use some improvements such as better battery life. But its many features and synergy with the iPhone make it the best smartwatch on the market, even as it boxes out half of all mobile users who are on Android and, even, Windows Phone still.
With this in mind, here's everything I love about the Apple Watch.
It's the iPhone's BFF
The Apple Watch isn't just a flashy timepiece with a surprising cool factor. It's also an unmatched iPhone facilitator, allowing for supreme control over Apple's mobile ecosystem. With the Watch on your wrist, you can finally leave your iPhone in your pocket (or even at home with an LTE version) as you tap away notifications, scribble out message replies, and even take phone calls.
Especially handy for multi-taskers, this wrist-bound window to your mobile epicenter lets you keep up to date while still keeping attention on the task (or person) in front of you.
Whether it's checking directions, monitoring your heart rate, or making mobile payments simple, the Apple Watch intuits what your iPhone is doing and vice versa, working in tandem like no other pairing.
The sweet sound of silence
For audio nuts like me, the ding and blips of communication interruptions like alarms, text messages, or calls are as much of an annoyance as pleasing sounds are a delight. With its subtle-yet-effective wrist vibrations, the Apple Watch has quickly become my silent communication savior.
I've missed dozens if not hundreds of calls and messages over the years by keeping my phone on vibrate, but not anymore. I'm aware of virtually every bit of communication from the void (most often it's just my wife) no matter the circumstance. All the notifications I need, without disturbing my ears or anyone else's? That's communication efficiency at its best.
Renowned fitness and health tracking
This is no surprise, as the Apple Watch and other smartwatches first started gaining heat as glorified fitness trackers. While it's not always perfect, the Watch's fitness tracking is a huge boon to those struggling to meet their weekly exercise needs (i.e. most humans). You can quickly and easily adjust how often the Watch annoys you with its three-ring circus, defining how often you're reminded to move, stand, or get outside and burn those pesky calories.
Like most modern smartwatches, Apple Watch starts workouts automatically—it even knows when you're cycling indoors or out—and mostly does a good job of understanding when you've begun working out without the need to do really anything on your own. It's not perfect but it's surprisingly accurate, especially when compared to cheap fitness trackers or your phone alone.
But it's the health features that may be most crucial; the Apple Watch could literally help save your life. After going through some minor health scares as I crossed into my 40s, I've come to rely on the Watch as a near-essential tool for keeping my health in check. From monitoring my heart rate as I ascended a daunting peak at 5,000 feet, to detecting defibrillation, falls, illness, and even car accidents, the Apple Watch is as much a wellness tool as a tech gadget.
A crazy-convenient control center
One of the Apple Watch's most useful features is simply controlling services like Apple Music or Spotify remotely. Once you connect your phone to a speaker over Bluetooth or Wi-Fi, the Watch lets you casually control playback and volume from your wrist. My favorite use case? Controlling Spotify from the hot tub. It's (understandably) less accurate if you get the screen too wet, but it's still pretty dang futuristic.
The screen even defaults to streaming controls automatically when you play media, and if that weren't enough, you can even use the watch as a camera remote for group photos. That's next-gen convenience.
Finding my dang phone
Good lord do I use this feature too often, and to levels of laziness that would make Tom Sawyer wag a finger. Finding my iPhone with the Apple Watch is just too simple, easily besting Apple's Find My app on Mac and even Google Chrome's simple Android tracker. Any time my phone is out of my immediate reach, I'm tempted to flick the Watch's screen and click the phone icon, causing my phone to jingle from the bathroom, the bedroom, the hall table, and somehow back in the bathroom again. If I'm honest, it's probably my favorite feature.

While it's not always perfect, the Apple Watch is a brilliant device that won my heart despite my best efforts to avoid it. If you're healthy, you may not really need a smartwatch. But with each iteration, it's getting harder and harder to pass up. And once you get used to the Apple Watch, you may find you don't want to live without it.
Get more iMore in your inbox!
Our news, reviews, opinions, and easy to follow guides can turn any iPhone owner into an Apple aficionado