How to change your Apple Watch Strap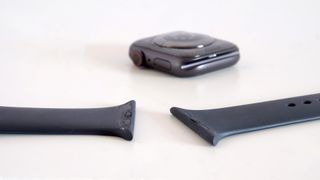 (Image credit: Andrew Williams)
Apple Watch models, since the product's inception in 2015, have looked quite similar, which means that your watch strap is the best route to make your watch stand out.
A strap and watch face are your customization options to give your Apple Watch a sense of personality, to make it your own.
Apple has provided the goods with a wide range of official straps of great quality.
Do you find them a bit pricey for your tastes because none are remotely cheap? While Apple uses a proprietary fastening system, countless third-party companies have produced budget — and not-so-budget — options for those willing to look a little further afield.
Switching out a strap only takes a few seconds. But if you've found yourself confounded by Apple's strap system, and worried about damaging your strap by forcing the thing out, here's how you change an Apple Watch strap painlessly.
How to change your Apple Watch Strap
Place your watch screen down and take note of which side has the longer part of the strap attached to avoid putting the new strap in the wrong way around
Press the little button that sits by one half of the strap and slide that strap piece out sideways, not away from the watch. A fingernail should suffice to press the button
Repeat that process for the other side of the strap
Take one-half of the new strap and look at the fastener bar at the end. The "up" side will have a little part that pokes out slightly in the middle of this fastener bar
Slide the strap into the Apple Watch sideways. It doesn't matter from which side. Move it in slowly until you feel a little click, signifying it is in place. Repeat for the other half of your strap
Will 44mm straps fit 40mm watches?
When shopping for an Apple Watch strap, make sure you buy the right size. If we discount the Apple Watch Ultra for a moment, there have been two basic Watch sizes over the years. These are large and small, while the exact watch size for each has varied between 38mm, 40mm and 41mm. And 42mm, 44mm and 45mm for the larger style.
You don't have to worry about the generation of watch a strap was made for, just whether it was built for the larger or smaller version of the Apple Watch. Own an Apple Watch Ultra? You can use a strap made specifically for the Ultra at 49mm, alongside a regular 42mm, 44mm or 45mm Watch.
Apple Watch straps versus third-party
Wondering why you end up paying more for Apple Watch straps than the average third-party ones? Part of it is that Apple brand clout, of course. Apple is likely making a tidy profit off these accessories.
However, their build quality is exceptional, and they tend to use much higher-end materials than the average third-party band.
Take the classic rubbery style bundled with most Apple Watch models as an example. Most other companies use silicone rubber for this kind of strap. It's fine, and it does the job. But Apple uses fluoroelastomer instead. It's much tougher, ages better, and picks up less muck than the average budget silicone strap.
You see this kind of high-end style across the range, using ballistic nylon, genuine, high-quality leather, stainless steel, titanium, and even gold. Are they worth the outlay? That's up for debate. But to say cheap third-party straps are all equal to Apple's is disingenuous.
Most comfortable watch strap style
What is the most comfortable style of Apple Watch strap? I'm a big fan of the Sport Loop for comfort and all-around utility and have been for years.
This is a woven nylon strap with a soft fabric feel. I regularly use my Apple Watch for exercise tracking, and the way the Sport Loop is so easy to adjust and allows for precise changes is a big benefit.
You see, you want your watch to be a little tighter when tracking most types of exercise to avoid any on-wrist movement. This ruins the accuracy of the Apple Watch's optical heart rate monitor. And on some wrists, this involves making a fluoroelastomer strap so tight it leaves marks, thanks to the spacing of the strap notches.
Of course, a finely woven nylon strap isn't necessarily going to stay pristine quite as long as a classic Sport Band for exercise. That one is going to shrug off grime more readily. However, the Sports Loop is much more comfortable, in our opinion.
Not a big exerciser? You may love the Braided Solo Loop, an elastic polyester and silicone strap you can slip on and off as often as you like.
Third-party straps advice
If you're looking for specific advice on straps to buy, iMore has plenty of articles for you. There's our best Apple Watch bands buying guide and our dedicated article on Apple Watch bands for extra large wrists.
However, if you're going to shop outside of those favorites, there are some fundamentals to bear in mind. If you're shopping for cheaper leather bands, it can be a bit of a minefield.
You will sometimes encounter straps that appear to be labeled "real" leather that is not actually the real deal. And there is a huge gulf between cheap bonded leather and the good stuff — top grain or full grain leather. Even "real" leather is not necessarily all that durable, so enter with adjusted expectations.
Get more iMore in your inbox!
Our news, reviews, opinions, and easy to follow guides can turn any iPhone owner into an Apple aficionado