The Simpsons also predicted Apple Vision Pro many years ago - here's how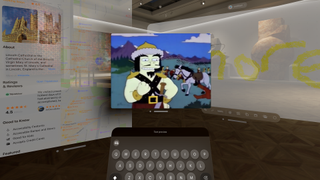 (Image credit: iMore)
If you feel like you've seen Apple Vision Pro before in a TV show, then it may have been from a certain episode of The Simpsons, because this happened to me not too long ago.
The show is about everything and nothing which features Homer, Marge, Lisa, Bart, and Maggie alongside the rest of Springfield's inhabitants which has had a unique reputation attached to it in recent years. Fans of the show have been rewatching older episodes and discovered that some of its scenes have correctly predicted certain events, years before they occurred.
From FaceTime chats to world events involving President Trump, to Autocorrect, there have been over 30 times that fans have spotted these strange coincidences.
But there's another that I noticed when watching an episode on Disney Plus lately, which made me realize how good Vision Pro could be when used in schools, and it's a scene that's seemingly not been picked up by fans as yet.
The McGarnagle way
After using visionOS thanks to the launch of the SDK on June 21, I'm now more tempted to try out Vision Pro when there's an opportunity to, as browsing the software and the apps that are installed on the SDK, gave me a brief insight into how it could be used.
While I'll be waiting for the $3,500 price point to go down before I consider one, using the SDK has constantly been on my mind, and it wasn't until I watched a Simpsons episode that I realized another frontier for it - education.
In episode 12 of Season 4, which is the classic 'Marge vs the Monorail', aired back on January 14, 1993, Mr. Burns pays Springfield a huge fine due to dumping Nuclear Waste in the local park, and many in the town are pondering what the money could be used for.
Eventually, it's decided that the town will invest the funds into a monorail system, opened by Star Trek alumni Leonard Nimoy, in one of his best guest-starring roles.
One scene features Lisa at school, daydreaming about putting on a certain headset, and she is suddenly transported to a battle with Genghis Khan. The character greets Lisa by name, and says that she will be going with him to oversee the battle.
As soon as this scene ended, it hit me that this would be perfect for Vision Pro, and without knowing it, The Simpsons predicted another scenario that we're all thinking about now.
The McBain way
Over thirty years since this episode aired, and it's shown a perfect use case for Vision Pro. Apple offers an education discount for students already, with its 'Back to School' initiative already live.
Transporting students to important events that relate to their curriculum would be a great justification for Vision Pro. Instead of a school trip where a teacher has to keep track of over 30 kids outside of school, they can simply load up an app, and they're taken to a time of Henry VIII, or look around the Mary Rose for example.
Students can interact with townspeople and walk around, perhaps taking notes on the side so they can use them for a test later in the day.
However, no school will be able to afford a classroom full of Vision Pro headsets at $3,500 each for now - it's going to take a few years before they're made affordable to any school admittedly.
But it's a short scene like this one from The Simpsons that only shows how Vision Pro, and spatial computing, could better help education in the long term. It's a prime example of where it could make education fun for those who don't find it that at all, and certain topics could be covered in exciting and interactive ways.
Get more iMore in your inbox!
Our news, reviews, opinions, and easy to follow guides can turn any iPhone owner into an Apple aficionado
Daryl is iMore's Features Editor, overseeing long-form and in-depth articles and op-eds. Daryl loves using his experience as both a journalist and Apple fan to tell stories about Apple's products and its community, from the apps we use everyday to the products that have been long forgotten in the Cupertino archives.
Previously Software & Downloads Writer at TechRadar, and Deputy Editor at StealthOptional, he's also written a book, 'The Making of Tomb Raider', which tells the story of the beginnings of Lara Croft and the series' early development. He's also written for many other publications including WIRED, MacFormat, Bloody Disgusting, VGC, GamesRadar, Nintendo Life, VRV Blog, The Loop Magazine, SUPER JUMP, Gizmodo, Film Stories, TopTenReviews, Miketendo64 and Daily Star.
Pretty sure Apple has thought of this. They don't usually miss Beats.

Reply