Why I still use the Apple Pencil 1 in 2023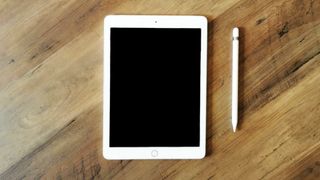 (Image credit: Andrew Bishop)
At the beginning of 2019, I was spending most of my time writing up numerous job applications and cover letters. With any free time I had, I spent it learning how to draw, a dream of mine I've had since I was younger. After a while, I got pretty competent with using a lot of traditional mediums but what I so desperately wanted to learn was digital art.

As I was in between jobs, the only drawing tablets I could afford felt flimsy and unresponsive. They often involved having to draw on the tablet itself while looking up at your monitor to see what you were doing and my brain just couldn't get around that weird disconnected feeling.

The artists on social media I followed at the time were singing the praises of the combination of using an iPad and the Apple Pencil (1st Generation). The combination of the two made a more affordable alternative to the more expensive display drawing tablets at the time and was more beginner-friendly to those like me who would be new to digital art.

When I finally landed that new job, I knew exactly what I'd spend my first pay cheque on, a 6th generation 9.7-inch iPad, and the Apple Pencil (1st Generation). Now, 4 years later, it's still my favorite accessory and the best thing that's ever happened to my art.
It feels like a real pencil
The Apple Pencil (1st Generation) can be bought directly from Apple's storefront for £109 and it comes with an extra drawing nib, lightning adaptor, and an adaptor for use with any 10th generation iPad.
The setup was incredibly easy and straightforward. There's a lightning connector hidden under a cap at the top which you insert into your iPad to pair, and it can be charged this way. Instead of having to search numerous websites for up-to-date drivers and waiting for them to install, like with the PC-compatible drawing tablets I had experience with using in the past, I could get drawing straight away.
The main thing I noticed when first using my Apple Pencil 1 was how comfortable it felt to use. It's built from that white glossy plastic you'll be familiar with when it comes to Apple products, but there's a really nice weight to it. It feels like you're holding a real pencil, making going from traditional to digital drawing easier to get my head around.
The natural feeling of having my Apple Pencil 1 in my hand, meant I found myself drawing constantly. At that new job, the one which afforded me the ability to get my new iPad and Apple Pencil in the first place, I'd often spend my lunch breaks scribbling away in apps like Clip Studio Paint or Procreate, instead of actually having my lunch.
The only hurdle I still had to overcome was the odd feeling of drawing on a glass screen. Though as the 6th generation iPad, and the Apple Pencil 1 that I had both been out for a while, there was already a plethora of accessories out there to bridge that gap.
I bought a screen protector marketed as 'paper-like', which created a matte texture on your screen to better replicate the feeling of drawing on paper, which is what cemented my Apple Pencil 1 and iPad combination as a replacement for carrying my sketchbook around with me every day.
Still Performs As It Did Straight Out The Box
When I originally got my Apple Pencil 1 in 2019, its successor, the Apple Pencil (2nd Generation), had already been out for a year. It has a few new features like being able to charge wirelessly and having a more ergonomic shape but nothing significant enough to make me feel like I'm missing out in any way.

At the time of buying my Apple Pencil 1, it was the cheaper option, and it was compatible with the iPads in my price range at the time. The fact that 4 years later, my pencil still feels and works as it did straight out of the box only solidifies the decision I made to buy it all those years ago.

There will come a day when I might have to consider replacing my Apple Pencil with something new. In a few years, there may be an Apple Pencil 3, whose new features may just be enough to entice me into upgrading, but for now, I can't imagine not using my Apple Pencil 1 every single day.

In 2023, despite the large number of art supplies I've accumulated in my years since making learning how to draw a priority, the Apple Pencil 1 remains my favorite tool at my disposal and I don't want to imagine where my art would be today without it.
Get more iMore in your inbox!
Our news, reviews, opinions, and easy to follow guides can turn any iPhone owner into an Apple aficionado